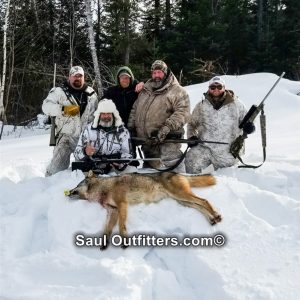 This is a hunt for the advanced hunting enthusiast.
From Dec until March it is cold in NE Ontario. The snow is deep and the terrain is harsh.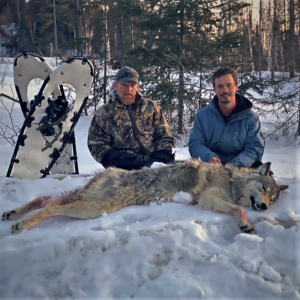 2023/24 PREDATOR HUNT RATES & DATES
TIMBER WOLF or RED, BLACK, and CROSS FOX
6nights  (arrive Sat-leave Sat morning) $1000 (+13% HST) pp
Saul Outfitters offers 3 types of Predator Hunting -Driving, solo sit and wait, or calling 
DRIVING: With Saul's extensive trapping and knowledge experience in the region, he will take you to a wolf active area and set you in ambush position via snowmobile and sled. He will then track the wolves (yes, often more than one) from several miles away pushing them in the direction of known ambush locations. Your wait may be long. Your wait will be cold. Dress appropriately.
SITTING: Saul will post a small concealed structure in an area that he knows the wolves and foxes often frequent. This is a long waiting game of silence for the hunter. Transportation is provided for you in and out of the location. Pick up times can be arranged. Heated watch shacks are available
CALLING: Saul is an expert at calling predators. If you choose, you can have Byron call up the wolf or foxes and entice them to you. THIS can be very exciting as the predators will often return calls before moving in on your location
WE ENCOURAGE – Guests to stay at the Trapper/Hunter Home in Matachewan with wood-stove, oil Furnace, den, satellite TV, bedrooms, washroom and hot showers are available. Kitchen facilities are provided where clients and guests can cook their own meals. Cell service is available. Call ahead for more details
GUESTS and CLIENTS may wish to stay at one of the modern motels in Timmins, New Liskerd or Kirkland Lake – Kirkland Accomodations
IMPORTANT – PLEASE READ
NON RESIDENT hunters MUST be able to provide proof of a past hunting licence from their state of residence or elsewhere in order to purchase an Ontario Canada hunting licence.
Proof of a past hunter education program is NOT SUFFICIENT.
If you have any questions or concerns, call Byron 705 262 3851 for assistance
BEFORE YOU LEAVE HOME STATE !